We have some new protocols which are as follows:
Masks must be worn by all clients in the salon. You are welcome to bring your own. If you do not have one we have them here to purchase for €2
No walk ins allowed so please book on line or call the salon to make an appointment for treatments and patch tests.
Please arrive to your appointment on time and alone
Please sanitise your hands at the automated sanitiser at the door before ringing the bell or entering the salon.
We will have no waiting area inside the salon so please ring the bell and wait for us to come out and get you. We have chairs in the courtyard to wait in the sunshine.
When your therapist comes to get you she will run through the Covid questions and ask you to sign to say your answers are correct.
She will then take your temperature and bring you to your treatment room.
We will have hygiene nail packs available for a cost of €2 for all nail treatments, you can keep these in your bag to use for every visit. We do sanitise everything thoroughly so these are optional should you wish to purchase one.
Our staff will wear PPE such as masks, visors and in some cases gloves to protect you.
If you can not wear masks for medical reasons we ask that you wear them for entering and leaving the building only and they can be removed in the treatment room.
If you wish to purchase products we would ask you to buy them on our online store or over the phone and we will have them ready for collection.
We have screens at our nail station between clients and between clients and therapists to ensure your safety.
A €2 surcharge will be added to all visits NOT each treatment to cover the huge cost of PPE. When we no longer need PPE this surcharge will be dispensed with.
While we were closed, we were busy preparing for our reopening with lots of new safety, hygiene and distancing measures in place.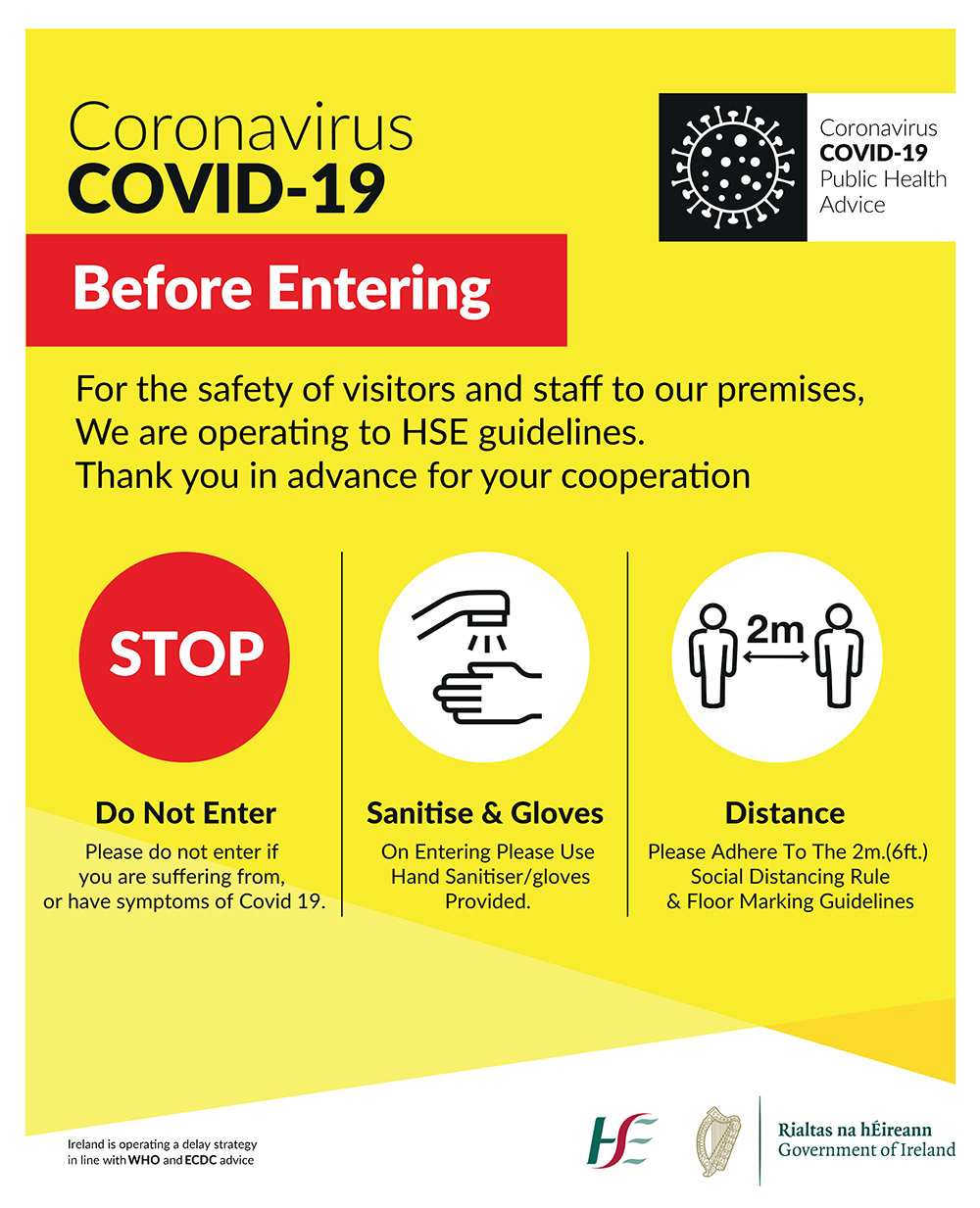 IMPORTANT we are kindly ask customers not to make an appointment or to reschedule existing appointments if you answer yes to the following:
You have experienced any cold or flu symptoms in the last 14 days
You have been in contact with anyone with cold or flu symptoms in the last 14 days
You are experiencing shortness of breath or having difficulty breathing
You have had a fever in the last 14 days
You have a cough
If you have had any stomach upsets or bugs in the last 14 days
You have travelled in the past 14 days to any regions effected by Covid
You have been in contact with a Covid patient in the last 14 days
You have been advised by your doctor to self isolate
Now for the fun part, are you going to stick with your usual treatment, change it up or do you need a few treatments to make up for lost time? Once you've decided, book an appointment on line the link is below or calling the salon.
We are so excited to welcome you back to Eden.