Aisling O'Loughlin is a fashion columnist with the Mail on Sunday and runs her own lifestyle website Exquisite.ie. The mum of three boys is also a broadcast journalist having spent nearly 10 years as a presenter on TV3's Xposé and is due to return to our screens this autumn. We asked Aisling 12 Questions on all things fashion and beauty and here are her replies:
1. WHAT IS THE ONE SKINCARE PRODUCT YOU COULD NOT LIVE WITHOUT AND WHY?
It has to be the old reliable, moisturiser. As brand ambassador for Academie Paris, I love their Gascony Plum for Dry Skin Moisturiser. It has a great scent and leaves the skin feeling satisfied.
2. WHAT IS THE ONE COSMETIC PRODUCT YOU ALWAYS WEAR?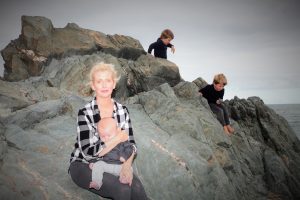 Since having children, I've become a concealer addict. It's the one item in my make-up kit that makes all the difference. I've barely had a decent night's kip in six years now so my eyes can get really tired looking, with dark circles that make me feel wretched. Catrice have a brilliant little pot called Camouflage for €3.50 that I picked up in Dunnes while doing the grocery shopping and it's beating all the big names at the minute. I'm always on the hunt for a better one though, so that could change. The thing about concealer is, it has a placebo effect. As soon as it's on, I feel so much better, like I've had eight hours of blissful shut-eye. It's definitely the product I love the most. For now. I'm hoping I won't need to say this in a few years. Please tell me I'll get my sleep back.
3. IF MONEY WAS NO OBJECT WHAT TREATMENT OR PRODUCT WOULD YOU LOVE TO TRY?
Having worked on Xposé for nearly 10 years, I got to hear about the very latest in the beauty industry and I was always offered a go, so I've been lucky in that sense. I don't feel I'm missing out too much. Ultimately though, I'm all for going easy on your skin and using calming products and keeping it well moisturised. Once in a blue moon I'll go for something abrasive if I think my pores are getting clogged. If I was a minted, which I'm still hoping I will be,  I'd have a massage every day like Eva Mendes.  That is the ultimate treatment for me. You can't beat healing hands.
4. WHO STANDS OUT IN YOUR MIND AS A TRULY BEAUTIFUL PERSON?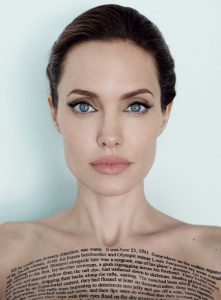 The ultimate beauty in terms of facial symmetry has to be Angelina Jolie. She is outer worldly. I think her humanitarianism shines through and her intelligence to make that perfect face more resplendent. She's obviously very comfortable in front of the camera and is well able to pout when needed, but she doesn't strike me as a poser or a vainer. Her work for the suffering is pretty remarkable considering she could just close of the door of her mansion and pretend it's not happening. I rate her a lot despite plumping for Team Jen when she got in on with Brad in those early years. She has certainly won me over with her Trojan humanitarian work and for being so incredible following her double mastectomy.
5. WHAT IS THE BEST MAKE UP TIP YOU EVER RECEIVED?
Whatever we may say about the vulgarity of the Kardashians, Kim K gave us contouring like we'd never seen it before. Her social media tips on creating cheekbones and nose shadow are super. Simple and effective. Thank you Kim for making us all look dirty in daylight but pretty frick'n fabulous on Instagram.
6. HOW WOULD YOU DESCRIBE YOUR FASHION STYLE?
Hit and miss. Ah no, I love the freedom to express myself through fashion so I've always experimented and played with my wardrobe since I was a kid. It's a great privilege to wear whatever you like and I don't take it for granted. Even if I'd never worked on TV, I'd always dress up. I think the more years I clock up the more outrageous I'll become. Ageing isn't so bad really. You stop giving a hoot what people think and start really being true to your core. Move over Iris Apfel, there's a new rare bird in town!
7. WHO IS YOUR FAVORITE DESIGNER AND WHY?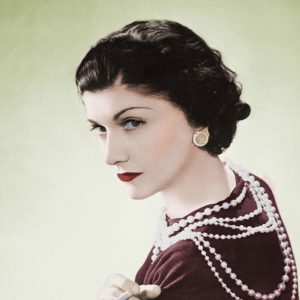 For her revolutionary impact on fashion, it has to be Coco Chanel. To think she started her life as an abandoned orphan to become the most iconic fashion brands in the world, it's mind blowing stuff. I love that she broke all the rules along the way, introduced soft jersey swim suits to free women's bodies and stripped away all the fuss of corsets and frills to give women a better chance to better themselves. She is the ultimate rags to riches story. I even traveled to Deauville in France this summer to check out the spot where she opened her first fashion boutique and where she got much of her inspiration for her designs. She fascinates me. This year I plan on getting a Chanel  bag. I think I'm finally grown up enough.
8. WOULD YOU EVER CONSIDER GOING UNDER THE KNIFE?
Everyday. Sure I'd consider it but I'd worry that if I started I wouldn't stop. It would be like painting walls, then noticing the ceiling needs a lick of paint, then the skirting's and radiators and so on and so fourth. Where would it end? The younger generations seem to have it sussed. Slight alterations. Nothing giveaway. The thing is sometimes, we don't know what it is that makes us attractive. That nose we think is too big, might be the part of our face that makes us unique or gives us an imperious look that you'd never get with a baby button nose. The French are great for accepting what God gave them and proceeding from there, give or take the odd eye or face lift later in life. I suppose the more I consider it, the more I wouldn't as I'm too much of a wuss for surgery. I'm not the better after three C-sections. BUT. If something was getting me down, it's great to have options.
9. WHAT BEAUTY FAUX PAS DRIVES YOU INSANE? 
Sometimes Irish women wear too much make-up when they don't need to at all.  Especially the younger girls I see on Instagram. They're so beautiful and caked in fakery.  At least they're good at applying it unlike my generation of orange faces and white necks. I think it's calming now. It's awful.
10. WHAT 1 FASHION PIECES SHOULD WE INVEST IN FOR WINTER 2017?
You can't go wrong with a beret, seen on the catwalks of Dior for Autumn Winter. They make everything sleek and stylish and they won't break the bank. Think Bonnie from Bonnie and Clyde and you're there. Here are some options to buy now:
Option 1 Camel with pearls ASOS
Option 2 Classic navy REVOLVE
Option 3 Red with leather trim  ASOS
11. DO YOU ALWAYS TAKE YOUR MAKE UP OFF BEFORE GOING TO BED?
Yes. I'm one of those annoying double cleanse people. Even if I'm drunk (very rare, I swear Your Honor), I'll take it off before bed. More so because I love the ritual of cleansing as much as I love the ritual of putting the make-up on. I live by hot cloths to remove make-up. They feel so amazing on the skin and my boys don't mind me cleaning their faces either, so we're all squeaky clean going to bed.
Green tea cleanser is ideal for removing make up effectively. It is a 3 in 1 cleanser which removes make up including eye make remover and also exfoliates. It can be used with warm cloths as Aisling likes to do. It contains green tea and silk proteins so it hydrates while cleansing. None of Casmara's cleansers contain alcohol or parabens. You can buy the 3 in 1 cleanser on our on line store for €20 by clicking here BUY NOW
12. IF YOU COULD GIVE YOUR YOUNGER SELF ONE PIECE OF ADVICE, WHAT WOULD IT BE?
Forget about boys. Concentrate on your passions, have faith in your abilities and go after what you love (not boys though). Don't be afraid to be brilliant and never allow yourself to be put in a box, categorised, contained or shut down. Freedom of thought and creativity is the ultimate goal. Money matters. Make sure you're paid properly and no less that your male counterparts. Go knock 'em dead Tiger!